Kansas City Chiefs 34-20 Houston Texans: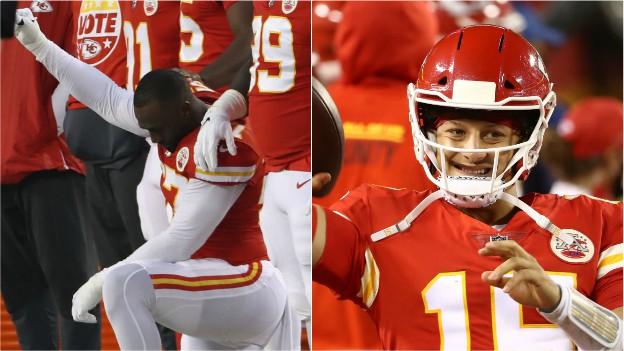 Houston Texans' defensive end JJ Watt was left confused by boos from fans during a pre-game 'moment of unity' as protests against racism took place on the opening night of the NFL season.
Pockets of the crowd at the Kansas City Chiefs' stadium booed as players linked arms shortly before the game started.
Chiefs' Alex Okafor took a knee during the national anthem while Houston's players stayed in the changing room. When play began, quarter-back Patrick Mahomes inspired Kansas to a 34-20 win.
Months of protests have taken place across the United States following the death of George Floyd after he was arrested by police in Minneapolis in May.
Fewer than a quarter of the stadium's seats were in use because of Covid-19 restrictions in the first NFL fixture since the outbreak of the virus but the audible boos were described as "unfortunate" by Watt.
"I don't fully understand that," he said. "There was no flag involved. There was nothing involved other than two teams coming together to show unity."
Kansas City mayor Quinton Lucas tweeted: "We're a good city of good people. I heard boos too. But we also have hundreds of thousands more around here who respect the message the players are sharing."
The NFL has softened its stance on players protesting against inequality after drawing scrutiny for its opposition to Colin Kaepernick's decision to take a knee while representing the San Francisco 49ers in 2016.