Boston Celtics, Miami Heat play game 'with a heavy heart' amid recent events: 'Some things have not changed'
As much of the country attempted to grapple with the scenes that emerged from Washington on Wednesday afternoon, as angry supporters of President Donald Trump stormed the U.S. Capitol, much of the sports world was trying to figure out how to process the day's events.
For the Miami Heat and Boston Celtics, that meant leaving the court together shortly before their game in Miami, with the two teams issuing a joint statement just prior to tipoff.
"2021 is a new year, but some things have not changed," the statement read. "We play tonight's game with a heavy heart after yesterday's decision in Kenosha, and knowing that protesters in our nation's capital are treated differently by political leaders depending on what side of certain issues they are on. The drastic difference between the way protesters this past spring and summer were treated and the encouragement given to today's protestors who acted illegally just shows how much more work we have to do.
"We have decided to play tonight's game to try to bring joy into people's lives. But we must not forget the injustices in our society, and we will continue to use our voices and our platform to highlight these issues and do everything we can to work for a more equal and just America."
The statement concluded with the hashtag "BLACKLIVESSTILLMATTER."
Most players from both teams also took a knee during the national anthem.
Following his team's 107-105 win, Celtics coach Brad Stevens said the game came very close to not being played, and that his players would have had "the full support of my staff, myself and our organization" had they elected not to take the floor.
"We scrapped warm-ups and just sat in the locker room and talked," Stevens explained. "To be honest, at 30 minutes I didn't think we were playing. Then coaches left the room, players finished talking, and chose to play. I called my wife and told her, 'I don't think we're playing.' Then 10 minutes later, we had decided to."
Celtics guard Jaylen Brown, who drove 15 hours from Boston to Atlanta in May to lead a peaceful protest following the death of George Floyd on Memorial Day, opened his postgame media availability by addressing what has been happening in society.
"It reminds me of what Dr. Martin Luther King has said, that there's two split different Americas," Brown said. "In one America, you get killed by sleeping in your car, selling cigarettes or playing in your backyard. And then in another America, you get to storm the Capitol and no tear gas, no massive arrests, none of that. So, I think it's obvious: It's 2021 — I don't think anything has changed. We want to still acknowledge that. We want to still push for the change that we're looking for. But as of yet, we have not seen it. We want to continue to keep conversations alive and do our part."
It had been a tumultuous 24 hours, beginning with the decision by prosecutors on Tuesday not to file charges in the shooting of Jacob Blake, a Black man, by a white police officer in Kenosha, Wisconsin, on Aug. 23, and culminating with the violent breach of the U.S. Capitol that forced lawmakers to be rushed to safety when they were meeting to formally count the electoral votes that will make Joe Biden president on Jan. 20.
In between, Democrats Rev. Raphael Warnock and Jon Ossoff were named the winners of the U.S. Senate runoffs in Georgia. Warnock's opponent, Atlanta Dream co-owner Kelly Loeffler, said Wednesday night she would not object to the electoral votes for Biden after what transpired at the Capitol. She had been planning to object. Former college football coach and current Alabama Sen. Tommy Tuberville was among the few Republican senators who did object to the certification of electoral votes for the presidency, including in Arizona and Pennsylvania. The challenges were rejected.
Golden State Warriors coach Steve Kerr called the day's events "a pretty clear reminder that the truth matters."
"A legitimate election is suddenly questioned by millions of people, including many of the people who are leading our country in government, because we've decided to — over the last few years — allow lies to be told. So, this is who we are. You reap what you sow."
The Warriors, many of them wearing Black Lives Matter shirts, knelt for the anthem along with the LA Clippers before their game tipped off Wednesday night at Chase Center.
With Washington under curfew from 6 p.m. ET Wednesday until 6 a.m. Thursday, the George Washington men's basketball game against UMass set for Wednesday night was postponed. The Washington Wizards played the 76ers in Philadelphia.
NFL spokesman Brian McCarthy said there has been no change to the status of this weekend's wild-card game between the Tampa Bay Buccaneers and the Washington Football Team in Landover, Maryland.
Around the NBA, however, it was an emotional day, as the league tried to grapple with the swirling emotions from the Blake decision, the Senate victories and the storming of the Capitol.
For 76ers coach Doc Rivers, who was part of many discussions about how the league could use its platform in the Orlando, Florida, bubble during the NBA restart, it was a moment to remember those efforts have not been in vain.
"But what's it not … is an attack on democracy," Rivers said, adding, "Democracy will prevail. It always does."
Rivers did draw a contrast between how the Black Lives Matter protests over the summer in Washington were handled, with "the police and the national guard and the army," and how the pro-Trump mob was dealt with on Wednesday — "no police dogs turned on people, no billy clubs hitting people. People peacefully being escorted out of the Capitol. So it shows you can peacefully disperse a crowd.
"It basically proves a point about a privileged life in a lot of ways," Rivers said. "I will say it, because I don't think a lot of people want to: Can you imagine today, if those were all Black people storming the Capitol, and what would have happened? That, to me, is a picture that's worth a thousand words for all of us to see, and probably something for us to reckon with again."
Few places, meanwhile, felt the emotions of the past 24 hours more than Atlanta, where Warnock became the first Black man elected to the Senate by the state of Georgia.
But for Lloyd Pierce, the coach of the Atlanta Hawks who has been at the forefront of the organization's push to get out the vote both in the general election in November and the special election that just took place, what he saw Wednesday wasn't unexpected.
"It's tragic," Pierce said. "I think it's sad, honestly. I think it's a sad reality. … It's unfortunate this is what we're looking at in our country after the year we've been through. But it's not unexpected. On a day for someone like me, an African American man, to … see someone like Raphael Warnock become the first African American man representing the state of Georgia going to the Senate, and you see the following day this is the reaction, this is the reality."
Pierce echoed Rivers in noting the discrepancy in how the Trump supporters who stormed the Capitol were treated by local authorities, compared with the treatment of those who protested mostly peacefully over the summer.
"There's a reason why there isn't shootings and brutality and looting and things of that nature, and people are just walking around the Capitol building as if it's nothing. And people sitting in [Speaker of the House] Nancy Pelosi's office as if it's nothing," he said. "We all understand that would've been guns ablaze and fires ablaze right now if that was Black people protesting. If that was Black people protesting on the outside — we haven't even mentioned people getting inside and tearing up the [Capitol] building.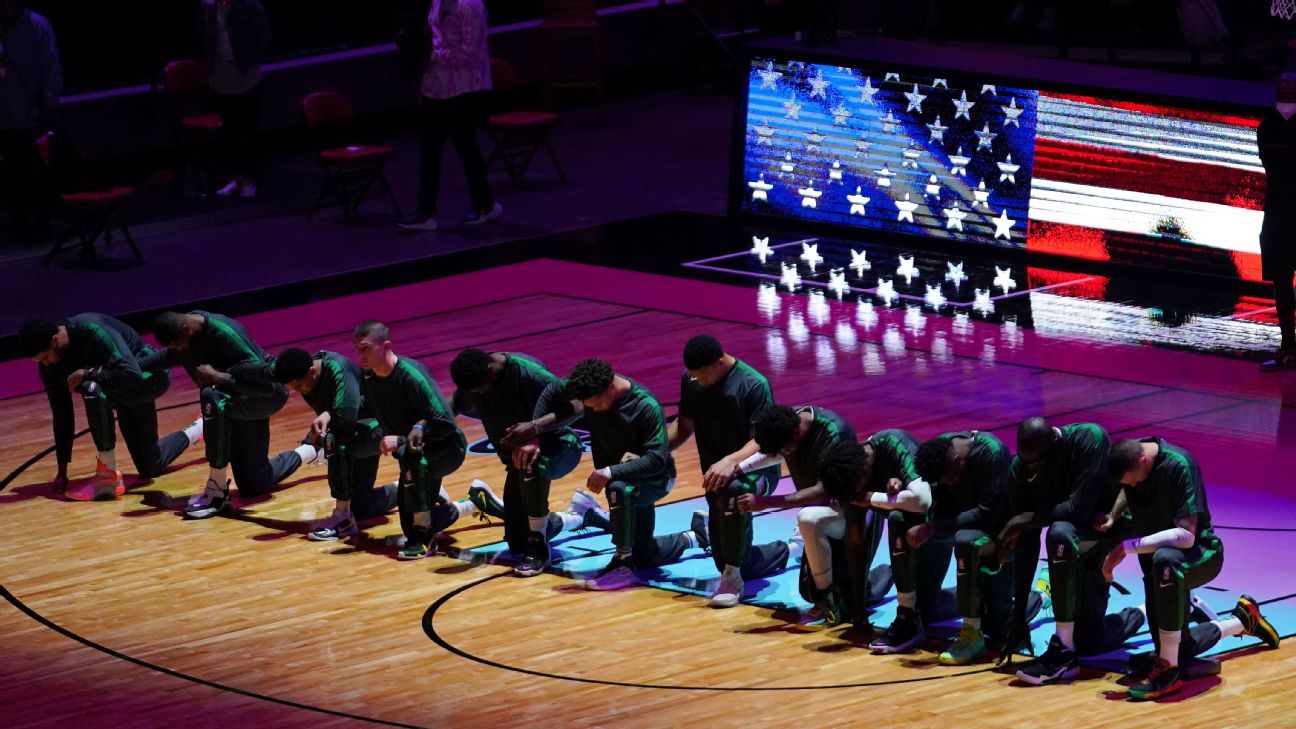 "But none of that's going to change until we acknowledge there's a huge difference in how Black people are treated with regard to law enforcement, and that just hasn't happened."
And, amid it all, players and coaches were trying to figure out how to remain focused on the task at hand while taking in everything that was happening around them.
"There's so many layers to it," Houston Rockets coach Stephen Silas said. "There's what's going on at the Capitol building, and then there's the why, and then there's the why for that — the division and all this other stuff. There is a long history of division in our country when it comes to political party, but it seems like right now there is more of a division in just, like, humanity. That's what I'm grappling with and struggling with right now."
Seattle Seahawks quarterback Russell Wilson also spoke of the need to "come together as a nation," adding, "we need safety for our children and people."
Others expressed disbelief at the day's events.
"I'm 59 and I've never seen anything like this," Orlando Magic coach Steve Clifford said. "Our country, we're being laughed at all over the world. From the way that we've handled the pandemic to this … it's a sad day for everybody."
In Phoenix, the Suns and Toronto Raptors stood in a circle and linked arms for the American and Canadian anthems.
"We all happen to be in a situation where we're very fortunate and privileged to play this game. But [this] situation is bigger than basketball and the game," Suns guard and NBPA president Chris Paul said. "So, it's sad and unfortunate the things that continue to happen. And we're not numb to it. Guys have feelings. We discussed it and that's how the teams wanted to express themselves."
Suns coach Monty Williams said that as a former athlete and now coach, he is mindful of the platform he has been given, along with other professional athletes, "to help when we can. We don't necessarily have to solve problems, but we can be a part of some of the solutions."
But, "when I look at what I'm seeing and what I saw earlier today, I find it hard to figure out ways to help a situation like that. I don't know how to be a part of that solution as it relates to what went on today."
ESPN's Tim MacMahon, Dave McMenamin, Royce Young and Ohm Youngmisuk contributed to this report.