Brexit: Will the borders be ready?
With a month to go until the end of the post-Brexit transition period, there's still no clarity about exactly how the UK's borders will operate when it comes to trade with the European Union (EU).
The government says "huge advances" have been made in its preparations, but businesses that trade across the border are extremely concerned.
Duncan Buchanan, the policy director of the Road Haulage Association, says he is expecting something "between shocking and a catastrophe".
And the National Audit Office said recently that, despite progress by government departments, "it is still likely that widespread disruption will occur from 1 January 2021," with significant risks relating to Northern Ireland "and trader readiness more generally".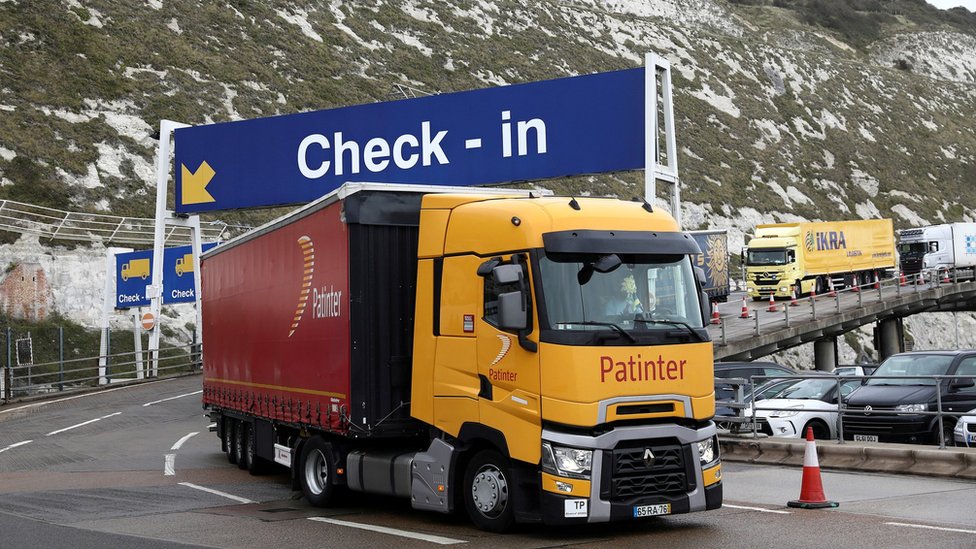 Deal or no deal
There will be big changes at UK borders, whether or not a post-Brexit trade deal is agreed with the EU in the coming days and weeks.
A trade deal would remove the need for tariffs (or taxes) to be paid on goods crossing borders.
But from 1 January, goods entering the EU from Great Britain (England, Scotland and Wales) will face large amounts of new paperwork and checks, including:
customs declarations
rules of origin checks
product safety certificates
food inspections
Hauliers will also need to make sure they have the right transportation paperwork before they proceed to border ports.
There is particular focus on what is known as the short straits route between Dover and Calais, and the nearby Channel Tunnel, which taken together handle about four million lorries a year.
"This is the biggest imposition of red tape that businesses have had to deal with in 50 years," says William Bain from the British Retail Consortium.
Phasing in checks
Last summer, the government decided not to seek an extension to transition – the 11-month period allowing for UK/EU negotiations on a future relationship (during which rules and trade stay the same).
It finishes at the end of December but – in response to the Covid crisis – the government chose to delay by six months the imposition of full controls on goods entering Great Britain from the EU.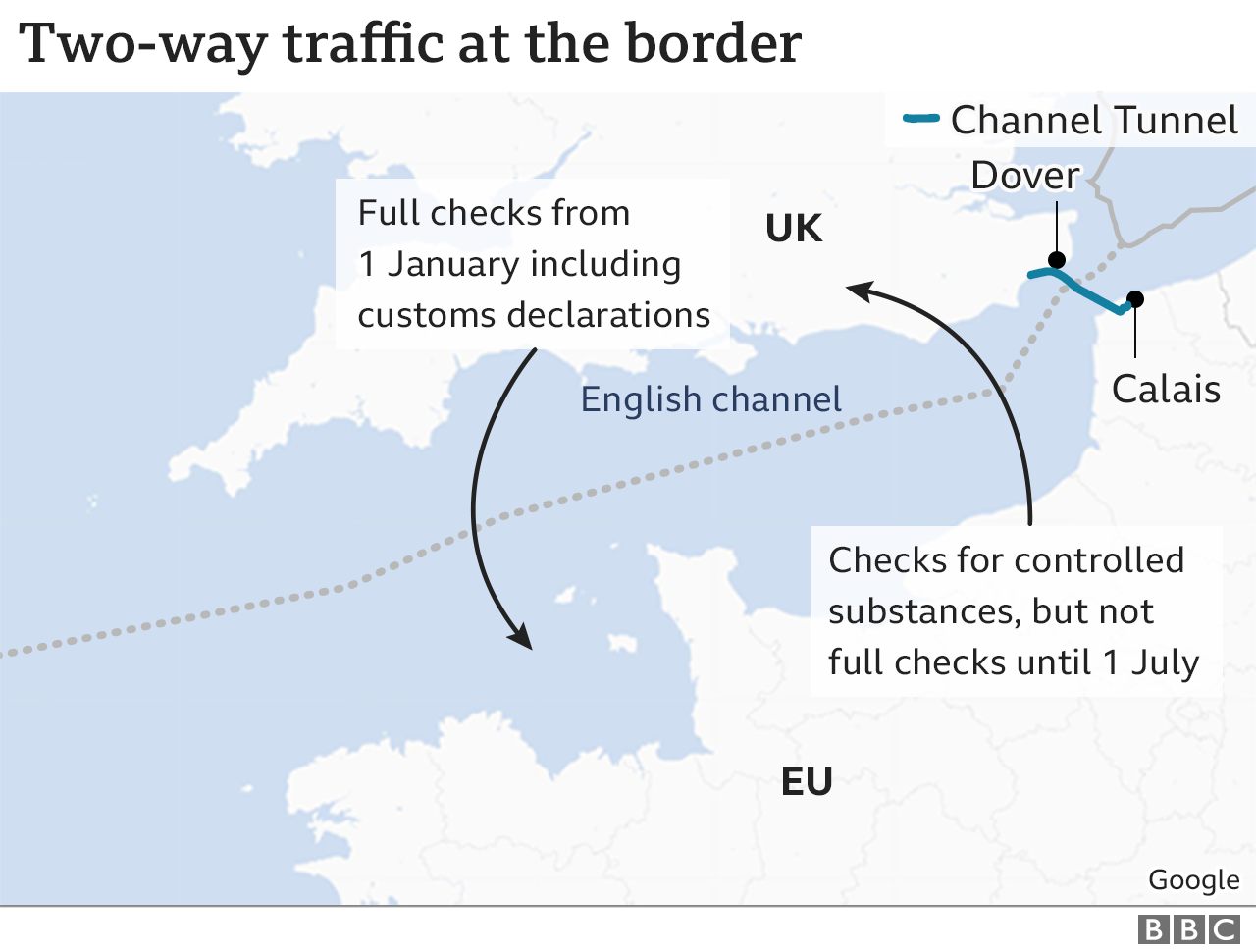 Eighty-five per cent of the volume of trade between the EU and Great Britain is carried by EU hauliers, who are often paid not by the hour, but by the kilometre. If they think there will be too many delays, many in the industry wonder whether they will simply not come.
The government says the readiness of traders to deal with the new system remains its biggest concern.
"The sheer scale of the overall operation means there are literally many millions of moving parts," permanent secretary of the cabinet office Alex Chisholm told MPs last week. "Inevitably there are going to be some difficulties for some individual people as they adjust to the new regime."
The government says it is "urging business owners to make their final preparations before new rules come into force" and it has announced a new Border Operations Centre as part of plans "for the UK to have the world's most effective border by 2025".
Food supply
Questions have been asked about how changes at the border might affect food supply. The short answer is no-one can say for sure. About 30% of all the food consumed in the UK is imported from the EU.
The challenge is exacerbated because in January and February the UK grows relatively small amounts of fruit and vegetables. The winter months are when it is most dependent on supplies from southern Europe. So, if there are delays, they could cause some shortages on the shelves.
"Some gaps are possible but we're not going to run out of food – that's not going to happen" says Ian Wright, chief executive of the Food and Drink Federation, who adds that if there was no deal, and tariffs were imposed, things would become difficult for a while.
When it comes to non-perishable items, there has been an element of stockpiling in preparation.
"The crunch point is probably not going to be in the first few days or weeks of January," William Bain argues. "Towards the end of the month, when new orders start being placed and delivered, we will start to see the processes in Kent and the other ports really tested."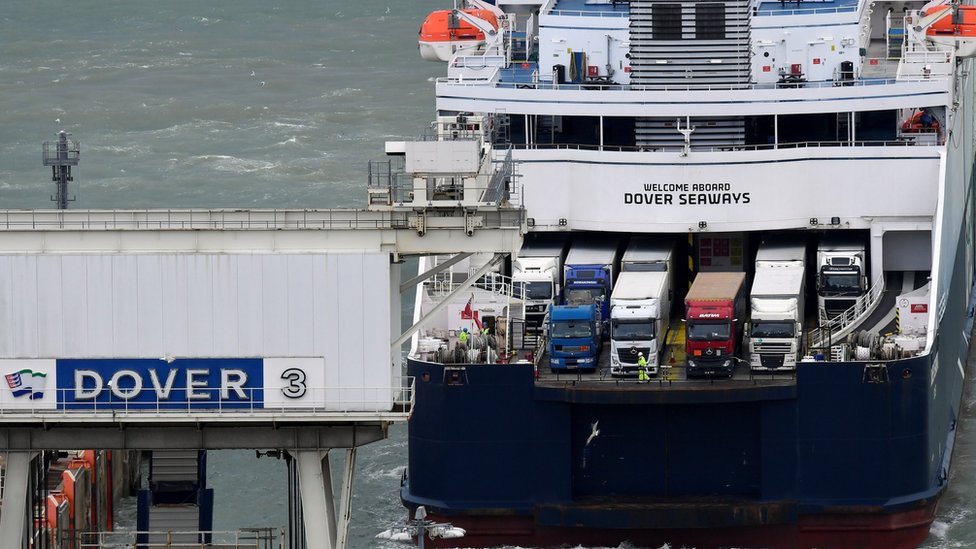 But it's not only about food. Other retailers, which are used to moving their stock freely around the EU customs union are now having to create separate supply chains for the UK, which is costing them more money.
Northern Ireland's border
Finally, many traders and businesses are worried about what will happen in Northern Ireland. It will be treated differently under the terms of the Northern Ireland protocol in the Brexit Withdrawal Agreement.
Depending on the outcome of the current trade negotiations, and separate talks in a Joint UK-EU committee, tariffs may have to be paid on certain goods moving within the UK from Great Britain to Northern Ireland, if they are deemed to be "at risk" of moving on to the Republic of Ireland in the EU.
"A massive amount of food for Northern Ireland comes across from GB and right now no-one – literally no-one – knows all the rules and procedures under which that trade will be conducted," says Ian Wright. "And that makes it all but impossible to know if you can trade profitably, or even how you can trade."
For many retailers, this is their biggest concern. Even if there is a trade deal and tariffs can be avoided, full checks will have to take place on goods from 1 January, and businesses say the system simply isn't ready.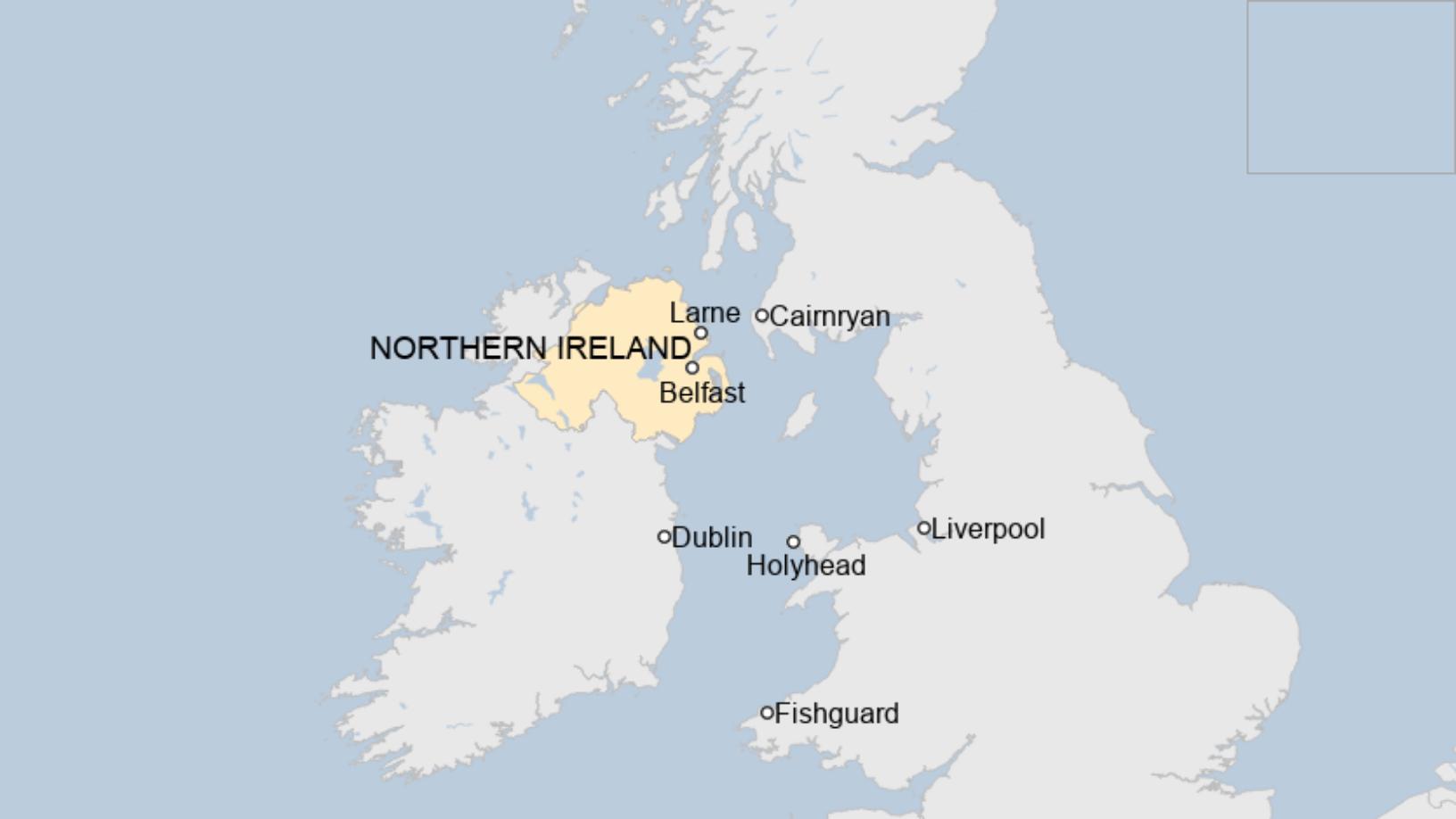 The EU has strict rules on products of animal origin: meat, milk, fish and eggs.
These products must enter the single market through a border control post where paperwork is checked, and a proportion of goods are physically inspected.
Concern about the issue even prompted a rare joint intervention from political rivals: the Northern Ireland First Minister Arlene Foster and Deputy First Minister Michelle O'Neill.
"It is hard to imagine a more fundamental aspect of everyday life than the purchase of daily food supplies," they wrote to the European Commission.
"Hence we would ask you to recognise how important it is that the current consideration of the detail of how the protocol will be applied takes our unique context into account."
A new customs system, which none of the traders have used before, is also being introduced for Great Britain to Northern Ireland trade, and companies still don't know what they are trying to plan for.
So, business groups in Northern Ireland are united in calling for an adjustment period – another transition in all but name – to give them more time to get ready.
source: BBC